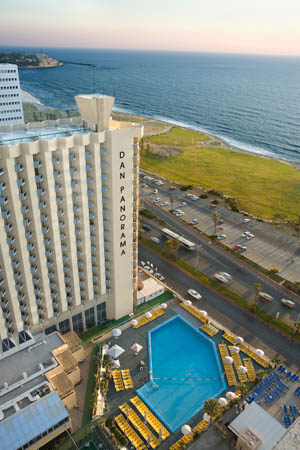 The Dan Panorama Tel Aviv

Stay at the Dan Panorama Tel Aviv and you're close to everywhere you want to be. Cross the road and you're on the great beaches and soft sands of the Mediterranean. Take a stroll along the seafront promenade and you're in ancient Jaffa's harbor. With all the dynamic and sophisticated attractions of Tel Aviv on the doorstep, premium leisure-time facilities and dining options, it's the ideal base for a family vacation or a business trip.
The beautifully renovated guest rooms and suites, decorated in contemporary style, have been designed to provide guests with maximum comfort. All rooms have balconies from which guests can enjoy watching the sunset over the warm waters of the Mediterranean or views of the historic Neve Zedek/ Yemenite Quarter. Guest rooms have superb sea views and some rooms face exotic Old Jaffa. Guests staying in Executive rooms can choose whether to add access to the private Carmel Lounge on the 18th floor ( for rates for these two room types, see below). Guests staying Executive Suites have free access.
*Presidential and Executive suites - maximum 2 persons.
Rates from March 1, 2013 to Feb 28, 2014
All rates are in US Dollars, per person, per night, including Israeli breakfast and service charges.
Tourists do not pay VAT. Only Israeli citizens pay vat.
"P.P. DBL" = per person in a double room
SGL = single room rates
Price Guarantee!!
We promise to give you the lowest rate available if there are any new special offers before your arrival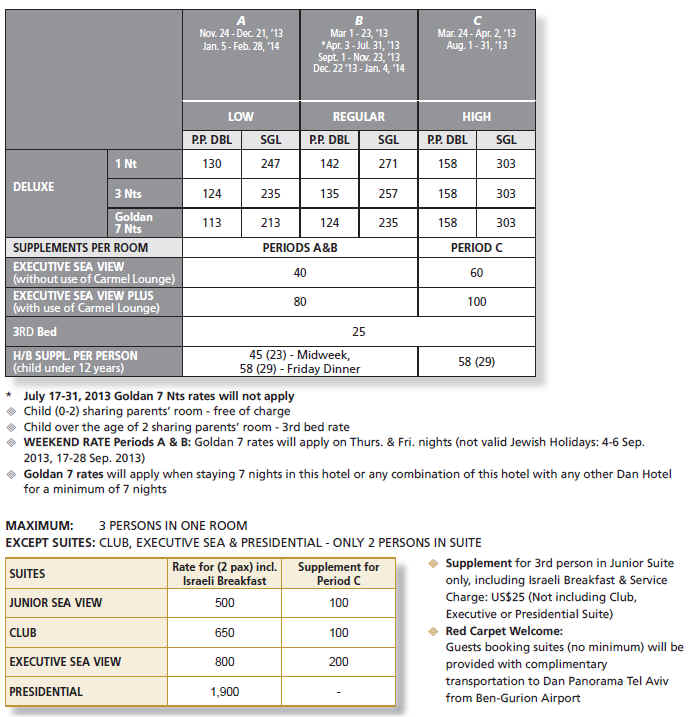 SUPERDAN RATES - March 1 2013 - Feb 28, 2014


Dan Panorama Tel Aviv - Dan Panorama Jerusalem - Dan Panorama Haifa

Combine two or more of the above DAN HOTELS for a minimum of seven nights.


Nov 24 - Dec 21, 2013
Jan 5 - Feb 28, 2014

LOW

March 1 - 23, 2013
April 3 - Sept 16, 2013
Sept 29 - Nov 23, 2013

REGULAR

Rates are based on:
Deluxe rooms at Dan Panorama Tel Aviv, Superior rooms at Dan Panorama Haifa, standard rooms at Dan Panorama Jerusalem
Per person per night incl Israeli breakfast
96
117
Single Supplement per night
76
97
Third adult - $35 per night
Family plan as per hotel contract. No family plan in Panorama Tel Aviv.
Not applicable : March 24 - April 2, 13; July 17, 13 - Aug 31, 13; Sept 17-Sept 28, 2013; and Dec 22,13 - Jan 4,14.
Other DAN hotels
This site is operated by Net International Travel, which has sole responsibility for its content
Guests with a foreign nationality with a B2 or B3 visitors permit stamped in their foreign passport, are exempt from V.A.T. All other guests - Israelis - are charged 16.0% V.A.T according to prevailing Israeli law (excluding Eilat). Israeli citizens are aware of this law. Click HERE for cancellation conditions.